When it comes to creating audio ads, we are the experts. If you are planning on creating an audio ad for your business some critical points need your attention. It determines the success of the audio ad campaign. Our experts have identified seven points, that would help your ad stand out.
Audio ad is a segment still in infancy, and businesses need to innovate with it in its early stages. If you are looking to create awareness of your new product or service, audio advertising is the right.  We can say with confidence that Audio ads are the best medium to keep your business or product on someone's top-of-mind to recall. 
When it comes to creating an audio ad there are two main components:-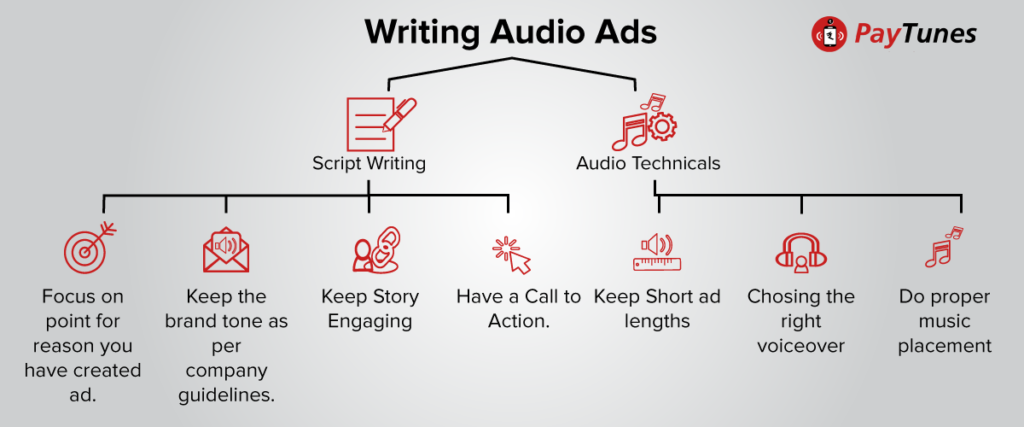 Script Writing-
Focus on what you want to deliver.
Make use of the right brand tone.
Doing the storytelling properly.
Have a strong call to action.
Audio Technicals-
Keep ad length short.
Choosing the right voice for Audio.
Music
So let us see the most critical part of an audio ad i.e. Scriptwriting, the script can make or break the audio advertising campaign.
Scripting  an effective Audio Ad
1. Focus on what you want to deliver-
Unlike video ads, audio ads allow passive consumption of information. This means precision is critical. A script, if messy, can leave a listener confused due to the lack of accompanying visuals, but, if precise, can keep them hooked to the very end. 
An effective audio ad either focuses on engaging an audience within the first few seconds. 
Begin quickly by establishing need or excitement. Consider, a new garage service in the market looking to promote its new "4-hour service and delivery" guarantee. The clear opportunity here is to focus on the primary pain points of consumers, i.e. day-long service waits, and hence, an audio script should immediately establish a sense of need in the listener. 
For instance, in this case, one could start with a dialogue between two friends, one of whom can't make it to dinner because he's still stuck in the garage waiting for his car. 
Often, however, when an ad tries to cover a lot of marketing communique at once, a dialogue style of script is discouraged. This is so that more space can be given to all the marketing objectives within a decently timed audio. 
For example, a Quick Service Restaurant(QSR), who's just added  2 new burgers to their menu, along with a special coupon code. Their work is already cut out with familiarising their customers with these exciting new items, within as little time as possible. In such a case, instead of talking about the brand, its locations, or its social media presence, Focus on hooking the listener immediately with the new propositions and why they should be interested. 
2. Making use of the right brand tone-
Having the right tone is very important for any brand in audio advertising. It is a critical aspect of any audio ad. It helps in setting the mood. It is always important to be relatable to brand personality.
Having a conversational mix with any tone is always good it makes it more engaging.
For example, a youth brand should preferably use a cheerful tone along with the slang used by them. 
3. Doing the storytelling properly-
A script can make or break an ad and trying to set up a very long plot is not a good choice in audio ads. Many brands tend to ask us to set up a plot or scene for a great ad. But in audio the things are different. Here you have to make sure you create a short intro that creates a plot in the users' minds easily. 
4. Have a Call To Action (CTA)-
As we told in the point above focusing on what you want to deliver at the end of each audio ad having a Call to action(CTA) is very important. It is a signal to your customer to take action after hearing the ad. A good CTA relates to the ad. It is seen that many audio ads end up saying "Tap the banner to know more". But what if your audio ad is about a sale going on your website, you could say "Tap the banner to avail the existing discounts" it will make a more lasting impact on the listener. Always have a clear Call to Action.
Audio Technicals of an Audio Ad
1. Keep ad length short-
No one likes to hear lengthy ads or not even an ad. So try to keep the ads short and to the point. There is availability to do a 30 seconds ad or just 10 seconds, but a 10 or 15 seconds ad is considered a good choice or max 20 seconds because it does not disturb the user's experience too much.
2. Chose the right voice for audio-
 The right voiceover artist can make a huge difference. Make sure the delivery from the artist is as per the tone required. Check that all pronunciations are accurate. Also, the artist should stress the proper words that will make an impact.
 3. Music – 
Smart placement of music is critical in maintaining brand position and communicating new ideas. It can either be an original theme written specifically for a new product or service, or a standard royalty-free track that simply adds flavor to an ad and doesn't overpower or influence its message. 
It's advisable to provide your creative team with a reference for the kind of music you'd like to hear in your ad. This helps in narrowing options for the producer and increases the likelihood of a satisfying audio advertisement. 
Audio advertising should be a must for your marketing needs as it is booming right now and audio consumption is growing exponentially among the audiences. Audio ads are a new avenue for businesses to advertise. To know why you should consider audio advertising read our article on ' 4 Reasons to consider Audio Advertising '.
PayTunes has been foremost in bringing the programmatic advertising revolution in India and after years of experience, we can proudly say that we can deliver on what we promise. Get in Touch with us if you want the best in commercial audio solutions.