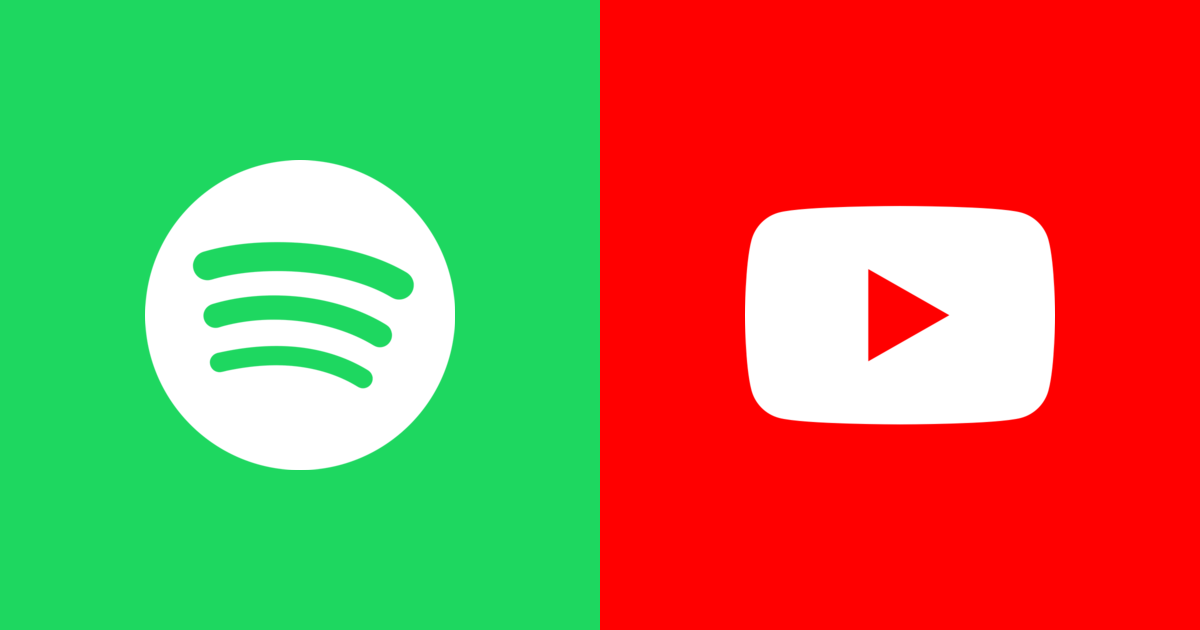 There's a lot to choose from about streaming music services, and it's challenging to test and determine which could be the best choice for you. There are many options currently, and two that are the most well-known of them are Spotify and YouTube Music. Both have libraries of over 100 million tracks, user-friendly interfaces for users, and similar plans ranging from ad-supported free tiers to several premium plans.
Although Spotify might be the world's most listened-to music streaming service, it also offers audiobooks, podcasts, and slightly higher quality audio than YouTube Music -millions of users around the globe have used YouTube videos to listen to their Music throughout the decades. YouTube Music is a polished and feature-rich extension of this, making it the better option for those already fully embracing Google Music. Google ecosystem.
Spotify, as well as YouTube Music, might be closer than you imagine. Before you decide, let's explore both and find out what they have in common.
Devices and user interfaces
The company was launched in 2008 and was founded in 2008 and has had time to master creating a user-friendly interface and is still one of the tops. Spotify is accessible in many ways, including the web browser, as well as desktop and mobile apps, available for iOS, Android, Windows, Mac, Linux, and Kindle. It's more challenging to come up with ways Spotify isn't accessible. It's compatible with numerous smartwatches and speakers that connect to networks like Sonos and is accessible in cars via CarPlay or Android Auto, on gaming consoles as well as smart TVs, and streaming devices like Apple TV and Roku, and many more.
The UI has been changed numerous times and is still evolving. However, at its heart, it's divided into three major areas. Home is the center of everything, with tabs at the top of the page for Music, podcasts, and audiobooks. The design's scrolling feature connects everything from songs that have been played recently to suggested mixes and new releases (more on this in the following). Here, you can also access features such as Spotify's new AI radio station-like feature called DJ and its new TikTok/Instagram-like interface that brings in animated album artwork, video clips, previews of songs, playlists, podcasts, and more in an excellent visual way. Your Library is where all your saved, created, downloaded playlists, albums, songs and artists, podcasts, and much more are organized. Also, Search is just a search box for searching for what you're looking It will also display your latest searches. It helps revisit them.
The desktop and web variants that make up Spotify's Spotify interface are identical. There isn't a Desktop version of YouTube Music; there is no desktop version of the YouTube Music app (just the web player). If the desktop will be your primary use point, then the Spotify app is better than the desktop version.
YouTube Music's interface is akin to Spotify's in that it's beautiful, visually appealing, and also uses scrolling technology. Although YouTube Music can be accessed in various ways, it's less comprehensive than Spotify; however, it does cast wide. Connected to a person's Google accounts, the specialized YouTube Music app is available on iOS, and Android phones (including CarPlay and Android Auto) and compatible smartwatches. It also works with Sonos speakers as well as Chromecast. Its web player is accessible via any browser or YouTube application on smart televisions. It is also possible to connect this player to other devices using the player on the web or via apps to provide additional convenience.
If you're using the YouTube Music application or web player, its user interface is divided into a number of principal sections, similar to Spotify. On the lower (or the top of a web browser), there's the Home section, which offers a variety of content based on your usage, including your favorite artists mixes of radio streams, playlists including new releases, popular Music, and much more. Explore is a specialized section with new releases, charts, and songs on the rise that you can search according to mood or genre. Library, just like Spotify, is where your entire playlist and albums you like and your favorite songs and artists are available. You can also find a Search magnifying glass symbol on the top of the page, where you can discover your recognizable Google user icon and the icon for casting.
Spotify and YouTube Music are very similar in terms of their UI designs and feature the same sort of organization and exploration tools. However, with Spotify, the well is deeper since the app provides numerous suggestions and categorizes inthem more attractive and innovative ways. Additionally, it is a step over YouTube Music with slightly more choices for connectivity.
Winner: Spotify
Discovery and Library
A lot of the current streaming music services offer music libraries within the range of 100 million tracks, Spotify and YouTube Music with it. In the past, you could consider that a crucial selection factor; the truth is that it's now difficult to find what you're looking for in both of these services. In light of that, we'll examine some additional factors that separate the two services.
Spotify's vast Library is only the start of the offerings it has to offer. It is also one of the leaders in podcasts, with over 5 million titles. Additionally, it has recently added audiobooks in addition to audiobooks.
However, the area where Spotify remains its brightest spot is in the variety of ways that its users can access and access its content it's like they wrote the entire book about it. The content is always evolving in line with your listening habits and preferences; the Made for [your name here category of the section Home is at the top of the list and is an ever-changing space for those who prefer to let the system perform the job. Playlists such as Discover Weekly, Daily Mixes as well as Release Radar are go-to's when there's no specific album or artist that you'd like to listen to, and there are an almost infinite number of playlists, mixes as well as radio station recommendations that are automatically generated by the genres, moods as well as artists and other content that you have listened to the most. The latest episodes of podcasts you love are prominently displayed along with audiobook titles.
The Search section can, of course used to find, however scrolling down will open an extensive list of categories that you can explore, such as Made for You, soundtracks for your day, Live Events, Charts and Decades, along with the mentioned TikTok/Instagram Story-like scroll of music and video previews that you can check out. Spotify always adds new discover features too as other features, and although they're often unpredictable, such as the latest DJ feature, which creates an online radio station that is that is run by an AI-powered model that is based on Xavier "X" Jernigan, it's great that they're always expanding its offerings. It's insane, but that's only a small portion of what's available.
Its music library on YouTube is as extensive as Spotify's, offering just about everything you're imagining accessible. While it's not yet offering audiobooks as of at the moment, it was this year that it began including podcasts on the Home screen – only for U.S. users only at time. How does YouTube Music stack up against Spotify in terms of recommending interesting content? Like most streaming services, as you continue to use the service, the it learns your preferences, which allows more suggestions. The Home section is a good place to start; it also has amazing playlists created by its constantly changing Discover Mix, the excellent My Super Mix, a New Release Mix, and a number of "Similar To" lists based on the artists you may like, it's not as comprehensive as Spotify's. Its Explore area does a good job of presenting singles and albums that are new along with the latest tracks, the genre and mood of the Music, and the inclusion of YouTube videos is an interesting element. It takes work to match Spotify's experience through discovery. It is as if you're receiving more, particularly when considering that they're priced nearly identically.
Winner: Spotify
Functions and features
Spotify, as well as YouTube Music, share a lot of the same features and functions. This includes everything from how you play pausing, shuffling, and skipping tracks to adding items into your libraries and liking items to make it easier to keep track of what you're listening to. Both services offer lyrics when they are available and are able to connect to devices and speakers within your home. The play screen is similar, with artwork from the album and offering similar dropdown menus. This includes the option to download (more on premium tiers to come in a moment) or share with friends, start "radio" stations based on your preferences, look up an artist's or albums, make playlists, and much more. Spotify can make playlists that are collaborative with your friends, and even while YouTube Music offers its year-end Recap, it's not as impressive as the fun of Spotify's much-anticipated Wrapped event. However, we don't believe that's a problem. Functionally speaking, the two Spotify are very similar to YouTube Music. YouTube Music is very similar.
Winner: Tie
Quality of sound
We've been pitting Spotify along with YouTube Music against each other due for a myriad of reasons; however, one of the primary reasons is that they're the few Music streaming services that don't provide an option or support lossless or high-resolution (hi-res) formats as competitors like Tidal, Apple Music, and Amazon Music Unlimited do. Spotify has been rumored for a long time to offer an option for hi-fi but has yet to be able to provide it, and to date, YouTube Music has yet to mention it. however, it's been a while since both services are similar regarding high-quality sound offerings.
In terms of technical quality, Spotify offers better sound quality than YouTube Music. In their free version, YouTube Music's highest quality of streaming is 128kbp, and Spotify's is 160kbps (it maximums at 128kbps for YouTube Music's web player).
Moving up to the higher levels of both services, when you play Spotify Premium in the browser with the web player, you will get an incredibly high speed of 256kbps. With Spotify's apps, you'll get speeds ranging from 24kbps to 320kbps. YouTube Music Premium is the same regardless of the location it's played in and can be played at 48kbps or higher to 256kbps at its highest.
Which is superior? It's a matter of fact, Spotify. However, if you're an avid music lover (in which case you shouldn't consider one of these platforms), most people won't be able to discern the difference or would not be interested in the matter. Spotify is the winner on a technicality.
Winner: Spotify
The cost
This brings us to a thrilling conclusion: the cost. To begin with, the two services Spotify along with YouTube Music, offer free tiers of their services. They provide access to the entire Library. However, you'll need to endure ads appearing in between tracks, and you're not able to download any content to listen offline. The free Spotify tier allows you to listen by shuffle and is unavailable for specific playlists. You are able to skip only 6 tracks at a time. Spotify has a selection of premium plans which remove the restrictions above permitting downloads, removing advertisements and allowing you to enjoy the entire experience.
Spotify's Premium plans comprise:
Individual: $10 per month

Duo Monthly: $13 (good for couples or two persons living in one household)

Family $ 16 per month (for up to six accounts)

Student: $5 per month
YouTube Music free allows you to skip tracks as often as you'd like within five seconds. However, advertisements are more annoying and intrusive than those on Spotify. However, YouTube Music is now able to play Music in the background. YouTube Music app now lets you listen to Music in the background while your lock screen is on, as well as when using another app, which wasn't available before. The upgrade to YouTube Music Premium, along with Spotify, will remove all advertisements, lets you download, and provides you with all the service features. Plans include:
Per month: 10 for an individual (or for a cost of $2 more per month if you have the purchase of a YouTube premium membership)

Family $15 per month (or for an additional $5 per month when you have YouTube Premium)

Student $5/month (or for the additional cost of $2 per month, you can get an account on YouTube Premium)
Spotify and YouTube Music are similar in pricing and plans for individuals starting at just under $10. We're calling this a tie since although Spotify has an additional, beneficial Duo tier ideal for this group, subscribers to YouTube Premium benefit from their memberships to gain the best add-ons, which is something that Spotify cannot offer.
Winner: Tie
Verdict
With 515 million subscribers and 210 million paying customers, Spotify is the world's most-loved streaming music service. However, with YouTube already being a popular music streaming service with its status and popularity, it's easy to see why they, along with other music enthusiasts, may be considering it as an alternative to other streaming services and streaming services. YouTube Music's cloud-based service, with 80 million premium users at the end of September, is a great indicator.
Even with their very similar price and quality of Music and their similar libraries, Spotify's gorgeously constructed large blue wall with music discoveries, audiobooks and brand new features is too big in order for YouTube Music to hit a home run just now. It's not a bad thing even if you're a Premium YouTube subscriber, then adding Music is an easy choice worth the few dollars. If you're not too concerned about the more flashy interface and podcasts, YouTube Music might be your thing. However, for its price, it's difficult to resist Spotify's sophisticated experience and the additional features that you can avail at the same cost.
Winner: Spotify
Source:- https://www.digitaltrends.com/home-theater/spotify-vs-youtube-music/